AFRY Stock ensures the adequate availability of critical spare parts while optimizing costs. The tool utilizes consumption data and cost information to calculate optimal order points, order sizes, and pre-order times for all spare part in storage.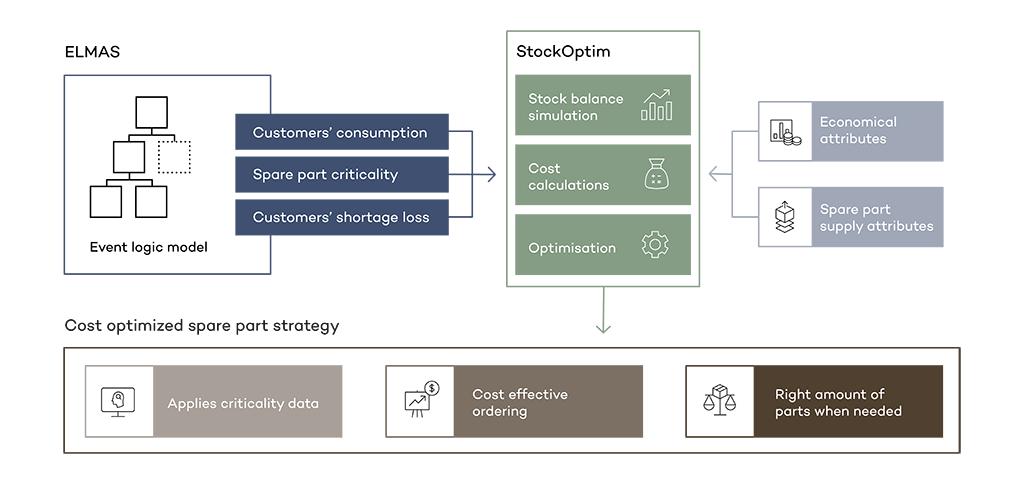 The data included in spare part consumption modelling consists of the following:
Item failure history
Maintenance strategy
Storage accounting
The data included in spare part cost modelling consists of the following:
Order and supply costs
Spare part shortage costs
Spare part capital costs
Space and upkeep costs
Stock optimization provides answers to questions such as:
What is the optimal reorder point?
What is the optimal order size?
What is the optimal pre-order time?

AFRY Stock – Licenses
We customize AFRY Stock to fit your specific requirements. To minimize manual work, we establish automated connections for retrieving data on failure history and spare part needs. If direct connections are not feasible, we can also work with data dumps. If you are interested, we can begin discussions on your needs, review the available data, and customize the optimization algorithm and tool license to align perfectly with your specific requirements. Simply contact us via email: reliability@afry.com.
Contact
For further information about AFRY Stock and services associated with it, please reach out to any of the AFRY Reliability Management section or AFRY RAMS services contact persons. AFRY Reliability Tools development team and technical support can be contacted via email: reliability@afry.com.
Engineered by AFRY
AFRY provides engineering, design, digital and advisory services to accelerate the transition towards a sustainable society. We are 19 000 devoted experts in industry, energy and infrastructure sectors, creating impact for generations to come. We look forward to continuing to work together with clients and partners to engineer a better future for all. Find out more: https://afry.com
Welcome to a world engineered by AFRY
Join us in Making Future

File downloads: AFRY Stock
To access AFRY Stock file downloads, please log in using your AFRY Reliability Tools account.
Login to AFRY Reliability Tools portal
If you do not have an account yet, please reach out to us: reliability@afry.com.