AFRY Reliability Tools – ELMAS
Event Logic Modeling and Analysis Software (ELMAS) has been developed for modeling, analysis and optimization of systems' dependability and costs during their whole life cycle. ELMAS can be used, for example, to compare design alternatives, to estimate the return of investment time, and to optimize maintenance of the system. With a user-friendly graphical user interface and efficient simulation algorithms ELMAS is a powerful tool for comprehensive risk assessment and uncertainty management.
Key benefits of using ELMAS
Visualize and understand the behaviour of large and complex systems
Utilize existing failure history data and employee expert knowledge for optimization of the system
Predict overall costs and resource needs through the whole system life cycle
Optimize (cost/benefit) Reliability, Availability, Maintainability and Safety (RAMS) – potentially already at the design stage
Focus the use of condition monitoring, data collection, diagnostics, machine learning/AI or other operative IT-systems
Demo video – ELMAS Process Analysis
ELMAS File Downloads
ELMAS file downloads will be added here later. Until we are ready, please use Ramentor Extranet: http://elmas.ramentor.com
Questions or issues? Let us know: reliability@afry.com
Event Logic Modelling and Analysis Software (ELMAS)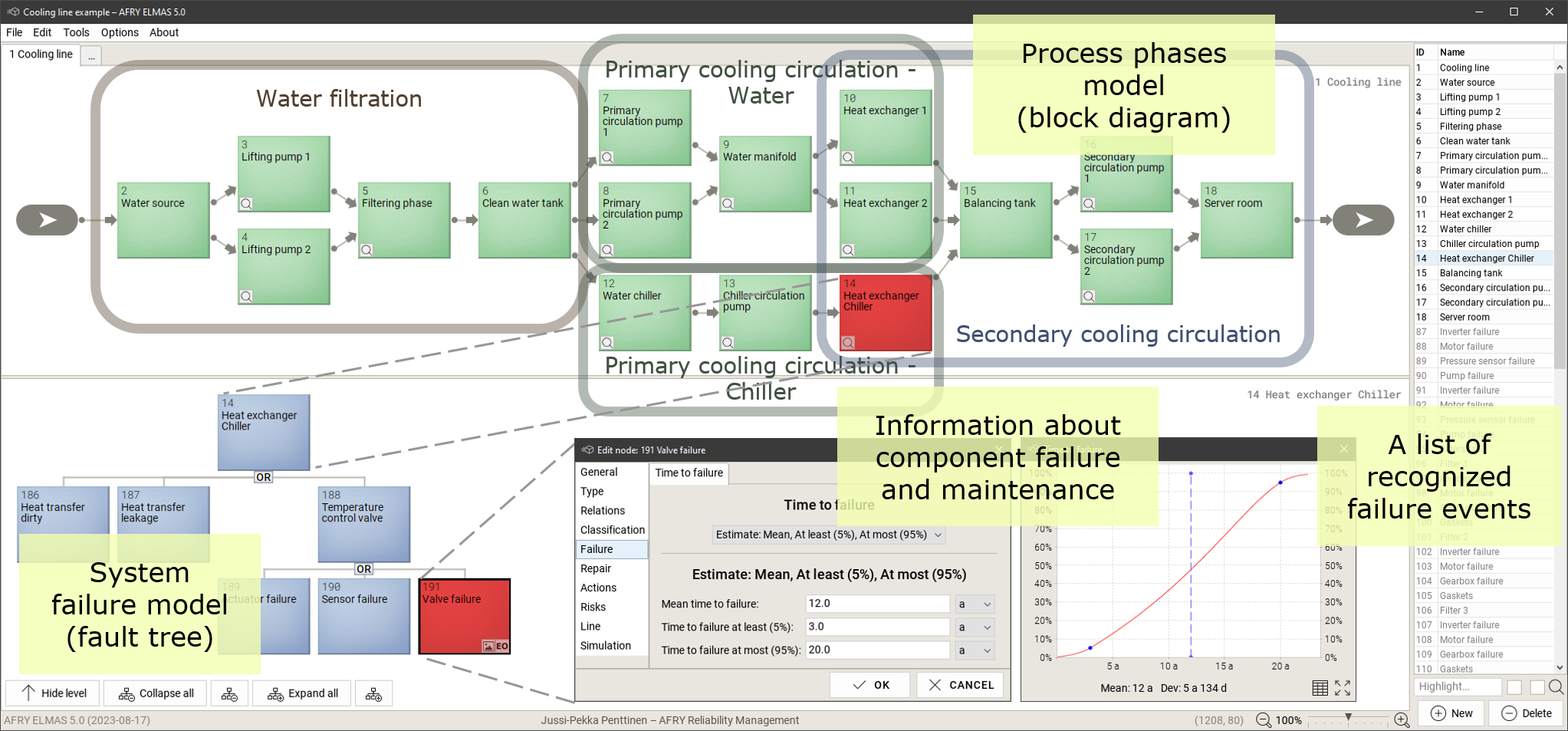 With ELMAS you can:
Model and analyze reliability and risks
Optimize maintenance and life-cycle cost
Compare different design solutions
Enhance documentation and data collection
Improve productivity and efficiency
ELMAS – Advanced Fault Tree Analysis (FTA)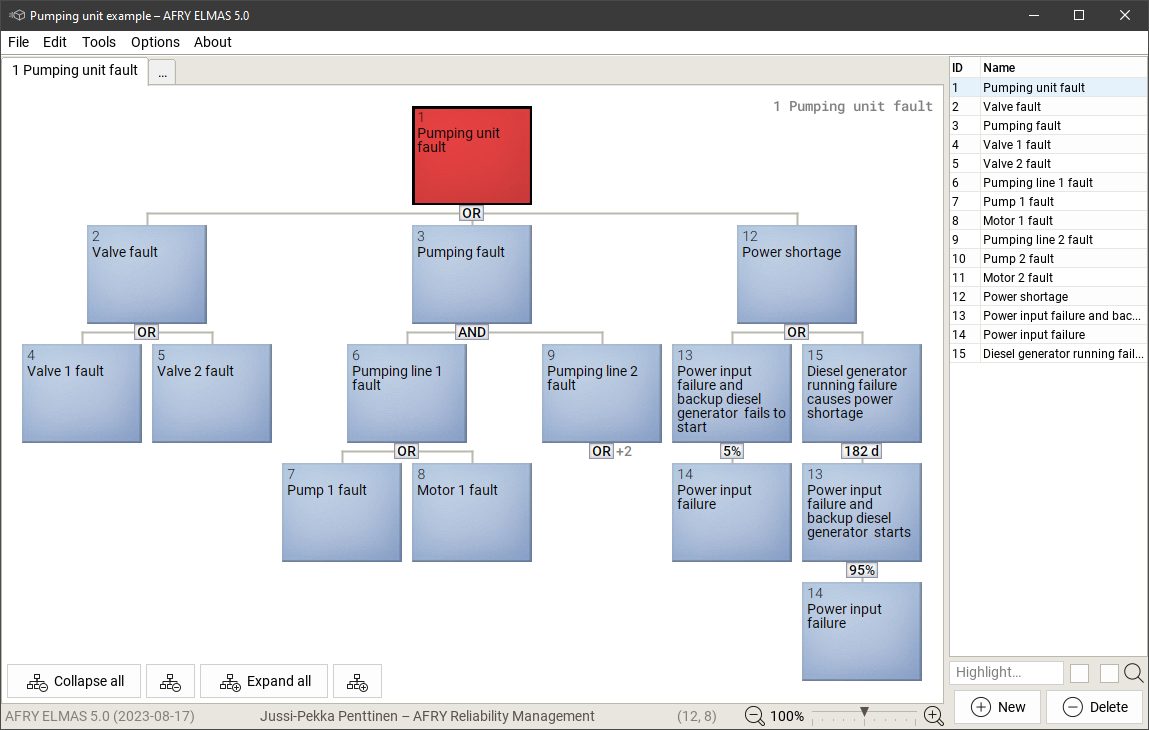 ELMAS includes advanced fault tree modelling features. For comparison with other software packages, see slides 15-17 from software feature evaluation (presented 2016 in a follow-up of CERN availability modelling workshop).
ELMAS includes advanced failure logic and distributions:
Standard logic gates, probability gates and delay gates
Various failure and repair distributions for experts' best estimates
Import of history data and distribution fitting
ELMAS includes an efficient simulation algorithm for calculation of various analysis results. For example, the calculation time of a large availability model was with ELMAS 2.1 seconds and with other simulation tool about 35 minutes (see slide 12 from accelerator availability model results, which was presented 2016 in a follow-up of CERN availability modelling workshop).
ELMAS – Customizable criticality classification
ELMAS criticality classification enables including qualitative analyses and risk prioritization, such as Failure modes and effects and criticality analysis (FMECA). Criticality classification helps to:
Create suitable maintenance and inspection programs primarily for the most critical functions and equipment
Derive equipment spare part criticalities from the equipment criticalities
Recognize critical functions and equipment in the design phase to inform and support the development process
Provide information for the acquisition about the requirements of the critical equipment
ELMAS – Dynamic modelling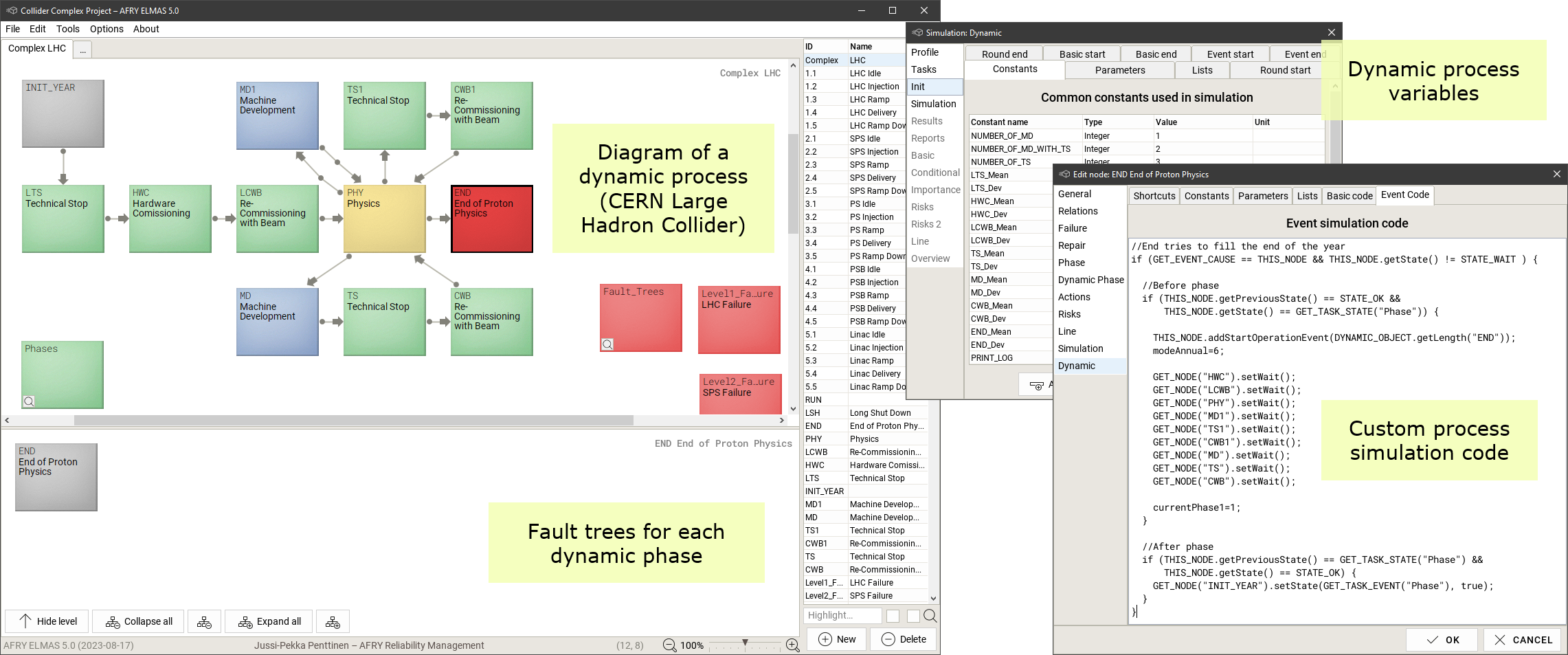 ELMAS dynamic modelling features enable including:
Dynamic process phase/mode changes
Chains of consequences and dynamic delays
Maintenance schedule and special actions
Contact information
The contact persons of AFRY Reliability Management section and AFRY RAMS services can provide futher details about using ELMAS in diverse domains. The contact email for AFRY Reliability Tools development and support is reliability@afry.com.