AFRY ELMAS, the Event Logic Modeling and Analysis Software, is specifically designed for modeling, analyzing and optimizing of the dependability and costs of systems throughout their entire life cycle. This versatile tool enables various applications, such as comparing design alternatives, estimating the return on investment, and optimizing maintenance. The tool is build upon the Fault Tree Analysis (FTA) methodology, but it includes various advanced extensions for dynamic behavior modelling and domain-specific criticality classification. With its user-friendly graphical interface and efficient simulation algorithms, AFRY ELMAS empowers users to perform comprehensive risk assessment and uncertainty management.
Key benefits of using AFRY ELMAS include:
Visualize and gain a deep understanding of the behavior of large and complex systems.
Combine the existing failure history data and the expert knowledge of employees to optimize the behavior of the system.
Predict overall costs and forecast resource requirements throughout the entire life cycle of the system.
Optimize Reliability, Availability, Maintainability and Supportability/Safety (RAMS) factors – potentially starting from the design stage.
Direct the utilization of condition monitoring, data collection, diagnostics, machine learning/AI or other operative IT systems efficiently.
AFRY ELMAS – Process analysis demo video
AFRY ELMAS – Reliability analysis and risk assessment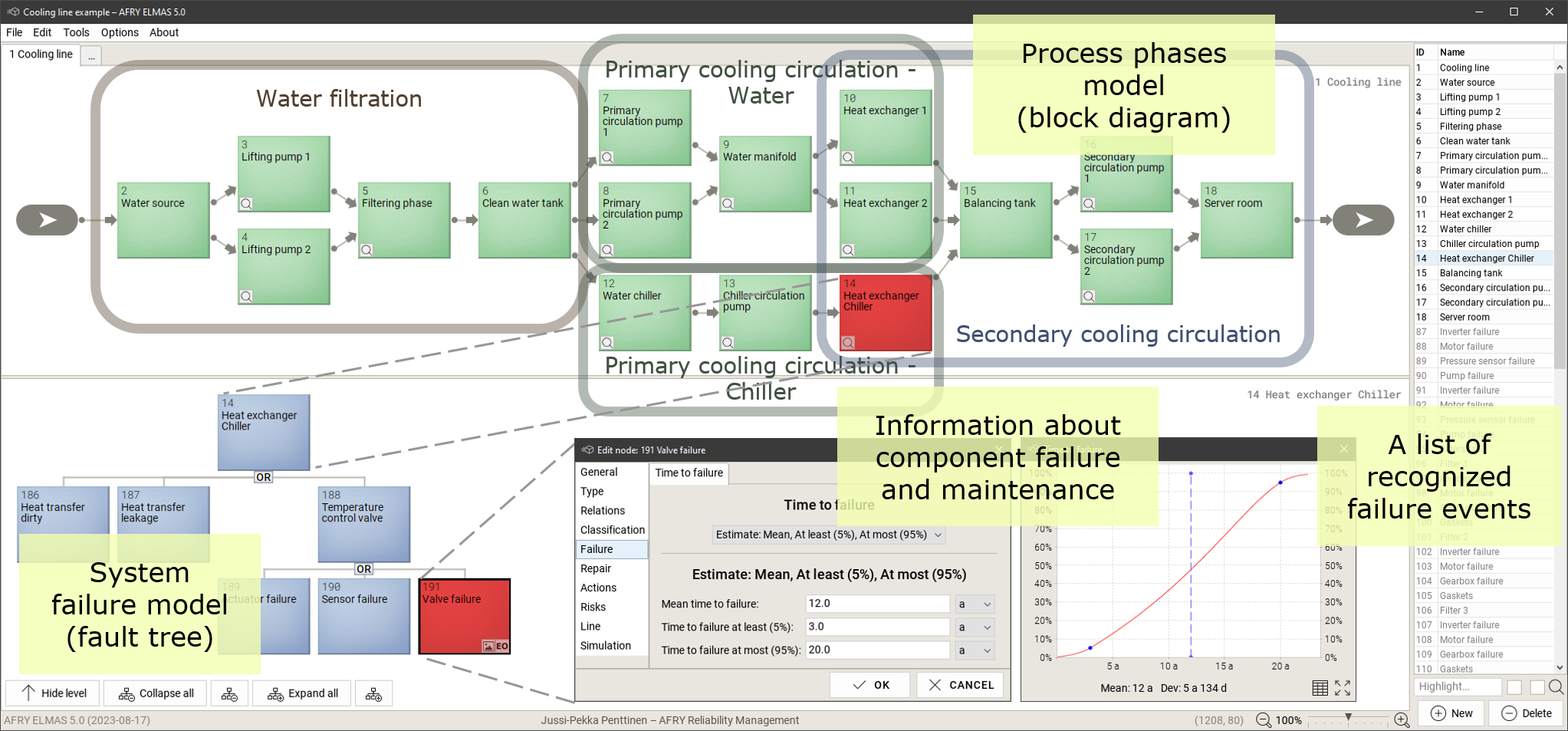 With AFRY ELMAS you can:
Model and analyze reliability and risks efficiently.
Optimize maintenance starategies and life-cycle costs.
Compare and evaluate different design solutions.
Enhance documentation and streamline data collection processes.
Improve overall productivity and operational efficiency.

AFRY ELMAS – Advanced Fault Tree Analysis
AFRY ELMAS includes advanced fault tree modelling features. For comparison with other software packages, see slides 15-17 from software feature evaluation (presented 2016 in a follow-up of CERN availability modelling workshop).
AFRY ELMAS includes advanced failure logic and distribution modelling features:
Standard logic gates, probability gates and delay gates for modeling system behaviour.
Various failure and repair distributions that allow experts to provide their best estimates.
Importing of historical data and distribution fitting capabilities to enhance analyses.
AFRY ELMAS includes an efficient simulation algorithm for calculating various analysis results. For example, the calculation time of a large availability model was with ELMAS 2.1 seconds and with other simulation tool about 35 minutes (see slide 12 from accelerator availability model results, which was presented 2016 in a follow-up of CERN availability modelling workshop).
AFRY ELMAS – Customizable criticality classification
The criticality classification features of AFRY ELMAS enables the inclusion of qualitative analyses and risk prioritization, such as Failure modes and effects and criticality analysis (FMECA). The criticality classification in AFRY ELMAS serves the following purposes:
Develop suitable maintenance and inspection strategies, with a primary focus on the most critical functions and equipment.
Derive the criticalities of equipment spare parts based on the criticalities of the corresponding equipment.
Identify critical functions and equipment during the design phase to effectively support the development process.
Provide essential information for equipment acquisition, emphasizing the requirements for critical equipment.
AFRY ELMAS – Dynamic modelling
AFRY ELMAS dynamic modelling features enable the inclusion of the following:
Dynamic process phase/mode changes to capture system behavior variations.
Chains of consequences and dynamic delays to model the cascading effects of failures.
Maintenance schedule and actions to accurately model special operation changes and interventions.
AFRY ELMAS – Licenses
AFRY ELMAS licenses are priced based on an initial price and a monthly subscription fee. Each license grants the named user the right to install and use the software for the duration of the subscription period. The monthly subscription fee covers updates and technical support. The table below outlines the available AFRY ELMAS licenses and their corresponding prices. Please note that the prices do not include taxes.
| AFRY ELMAS license | Initial price | Monthly subscription fee |
| --- | --- | --- |
| Trial (30 days) | Free | - |
| Single user | 14 900 € | 490 €/month |
| Additional users | 7 900 € | 390 €/month |
| Unlimited users (Business unit/site) | 49 000 € | 3 900 €/month |
| Unlimited users (Corporate) | TBD | TBD |
| Academic (Non-commercial teaching/research) | TBD | TBD |
| A license combined with an analysis project | -15% to initial price | |
If you are interested in evaluating AFRY ELMAS, we can provide you with a trial license. Simply contact us via email: reliability@afry.com.
Contact
For further information about AFRY ELMAS and services associated with it, please reach out to any of the AFRY Reliability Management section or AFRY RAMS services contact persons. AFRY Reliability Tools development team and technical support can be contacted via email: reliability@afry.com.
Engineered by AFRY
AFRY provides engineering, design, digital and advisory services to accelerate the transition towards a sustainable society. We are 19 000 devoted experts in industry, energy and infrastructure sectors, creating impact for generations to come. We look forward to continuing to work together with clients and partners to engineer a better future for all. Find out more: https://afry.com
Welcome to a world engineered by AFRY
Join us in Making Future

File downloads: AFRY ELMAS
To access AFRY ELMAS file downloads, please log in using your AFRY Reliability Tools account.
Login to AFRY Reliability Tools portal
If you do not have an account yet, please reach out to us: reliability@afry.com.