AFRY Fleet enables analyzing operation and maintenance of a fleet consisting of multiple systems/vehicles. A system can refer to a vehicle or any other item that encounter failures and requires actions offered by maintenance organizations.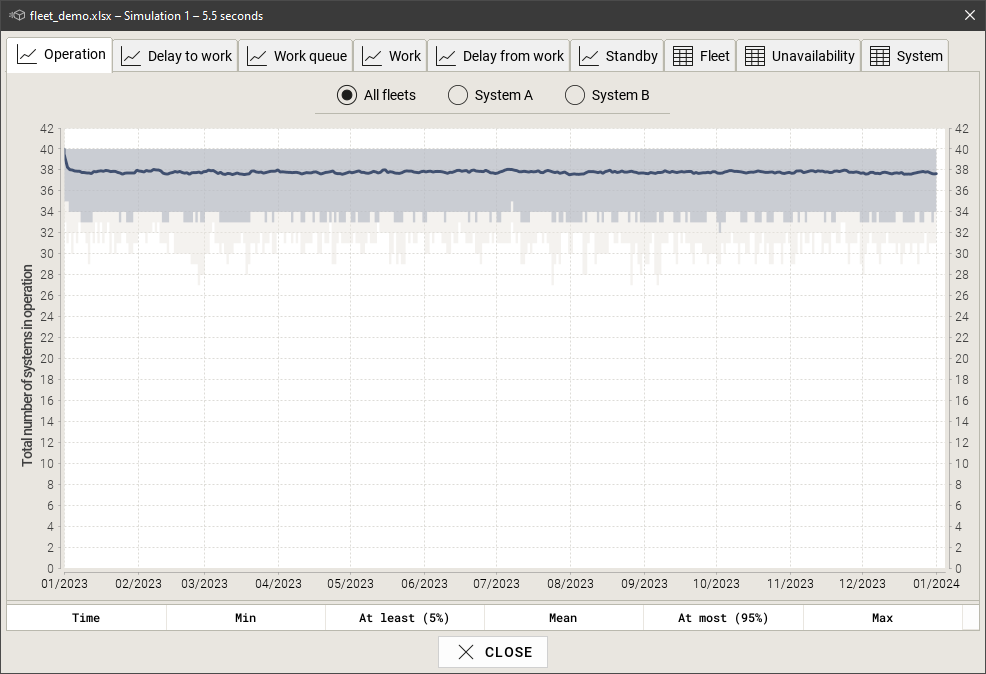 The steps included in fleet operation modelling are as follows:
Define failure modes of each system.
Specify the Mean Time To Failure (MTTF) or failure distribution of each failure mode.
Specify the Mean Time to Repair (MTTR) or repair distribution of each failure mode.
Define the shedule of preventive maintenance actions.
Define domain-specific details, such as standby systems or special usage/operation profiles.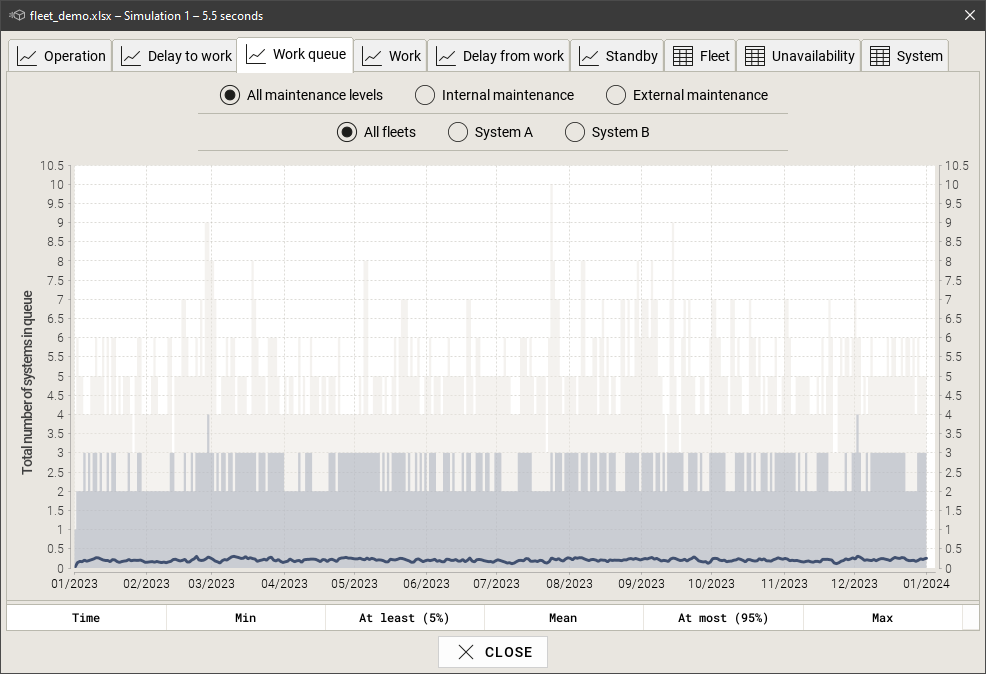 The steps included in maintenance organization modelling are as follows:
Define the number of available maintenance personnel, workshops, and other resources.
Specify logistics delays for transportation to and from maintenance activities.
Determine the requird spare parts.
Establish priorities for maintenance operations if queueing is necessary.
Define domain-specific details, such as separate levels of maintenance organization or critical tools/resources.
Fleet availability simulation provides answers to questions such as:
What is the average number of available systems with the current maintenance organization?
How would changes in maintenance organization or actions affect fleet availability?
How well could the maintenance organization adapt to changes in usage profiles or an increased number of systems in the fleet?

AFRY Fleet – Licenses
We tailor AFRY Fleet to meet your specific needs. Our flexible software provides a user-friendly interface for complex interdependencies between maintenance organizations and system fleet operations. We have a demo version available with essential features to demonstrate the capabilities of our software. If you are interested, we can provide you with the demo version for evaluation and initiate discussions on customizing the user interface, analysis features, and tool license to align perfectly with your specific requirements. Simply contact us via email: reliability@afry.com.
Contact
For further information about AFRY Fleet and services associated with it, please reach out to any of the AFRY Reliability Management section or AFRY RAMS services contact persons. AFRY Reliability Tools development team and technical support can be contacted via email: reliability@afry.com.
Engineered by AFRY
AFRY provides engineering, design, digital and advisory services to accelerate the transition towards a sustainable society. We are 19 000 devoted experts in industry, energy and infrastructure sectors, creating impact for generations to come. We look forward to continuing to work together with clients and partners to engineer a better future for all. Find out more: https://afry.com
Welcome to a world engineered by AFRY
Join us in Making Future

File downloads: AFRY Fleet
To access AFRY Fleet file downloads, please log in using your AFRY Reliability Tools account.
Login to AFRY Reliability Tools portal
If you do not have an account yet, please reach out to us: reliability@afry.com.